The Broken Social Scene, the award winning Canadian indie supergroup will be making their way though the Madison area on
October 11
performing at the wonderful
Wisconsin Union Theater
. BSS is characterized by a very large number of sounds, grand orchestrations featuring guitars, horns, woodwinds, and violins, unusual song structures, upbeat tempos and an experimental, and sometimes chaotic production style from David Newfeld.
This show will be one of the hottest tickets of 2008 and is highly recommended. For those of you who caught their performance at
Lollapalooza 2008
, you know what I mean.
Most of you might recognize one the BSS members, Leslie Feist by the ever famous iPod Nano commerical featuring her hit, "1234". That album,
The Reminder
has sold worldwide over 1,000,000 copies and is certified gold in the U.S.
Touring with the BSS this time around will be: Kevin Drew, Brendan Canning, Justin Peroff, Charles Spearin, Sam Goldberg, Amy Millan, Evan Cranley, Elizabeth Powell.
This year I picked up a two pack of cd's that contained Kevin Drew's
Spirit If...
(which is pure bliss) and Brendan Canning's
Something For All of Us (

brilliant

as well). These two releases fullfilled my BSS fix for the year. If you do not own them yet, get out to the show and get them there.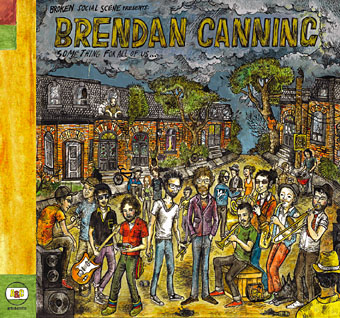 BSS Family of Acts include:
Broken Social Scene Presents: Kevin Drew – Kevin Drew
Broken Social Scene Presents: Brendan Canning - Brendan Canning
K.C. Accidental (now defunct) – Kevin Drew and Charles Spearin
Apostle of Hustle – Andrew Whiteman
Feist – Leslie Feist
Jason Collett
Do Make Say Think – Charles Spearin, Julie Penner and Ohad Benchetrit
Junior Blue – Justin Peroff, Brendan Canning, Kevin Drew and Dylan Hudecki
Metric – James Shaw and Emily Haines
Raising the Fawn – John Crossingham
Stars – Evan Cranley, Amy Millan, and Torquil Campbell
Valley of the Giants – Brendan Canning and Charles Spearin
The Weakerthans – Jason Tait
The FemBots – Jason Tait and Julie Penner
Reverie Sound Revue – Lisa Lobsinger
The Dears – Murray Lightburn
Emily Haines & The Soft Skeleton - Emily Haines
The American Analog Set - Andrew Kenny, Lee Gillespie, Mark Smith, Sean Ripple, Craig McCaffrey
The Priddle Concern - Bill Priddle, Mitch Bowden
Don Vail - Bill Priddle, Mitch Bowden